Welcome to Adaire Elementary!
Alexander Adaire Elementary is a public Pre-kindergarten to 8th grade school in the Fishtown neighborhood of Philadelphia. Our school was established in 1891 and is named after one of Fishtown's famous residents and advocates for public education, Alexander Adaire. We are proud to continue his legacy by providing excellent public education to our students in the community!
---
Welcome Back!
Welcome to a new school year, Adaire! There are many exciting things happening at Adaire this fall including the launch of our new Pre-K program and the unveiling of our beautiful new mural. Be sure to see (and subscribe to) our school calendar for all events happening this fall!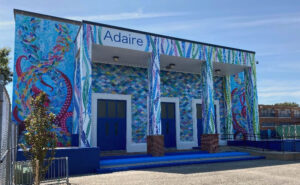 ---
Mural Dedication – Oct. 5th @ 2:00pm
Join us as we officially unveil our beautiful new mural! Thank you to all of our students whose creativity and work went into the making of the mural. Thank you to Ben Volta and the Mural Arts staff and thank you to the generous donors who helped make this piece of community art a reality!
---
For back-to-school resources and information for the 2023-24 school year, check out https://www.philasd.org/ringthebell/