Counselor's Corner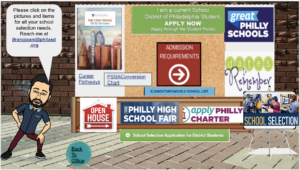 School Selection
The School Selection Process is Open! It will close on Friday, November 4 at 11:59 PM.
For more information please visit https://www.philasd.org/studentplacement/services/school-selection/ 
Thanks to everyone who attended the Middle School Open House! Here is the link to the slides and the link to a recording of the open house (due to technical difficulties 5th grade ELA and math presenters were not captured, please reach out for more information on those areas)
Click here to visit Mr. F's virtual office for a one stop shop for your school selection needs!

October 17-21 is UPSTANDER WEEK!
Click here to learn more about how to support your children in being Upstanders!